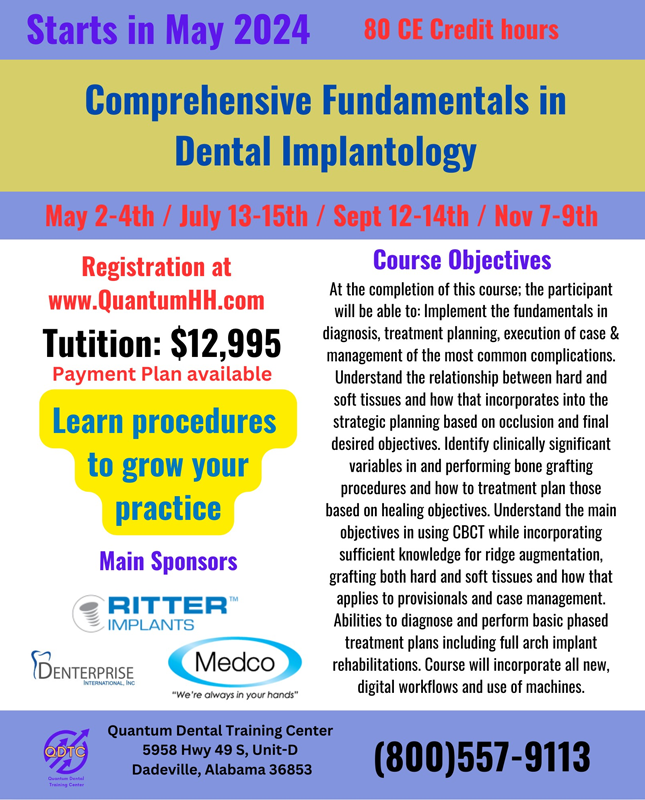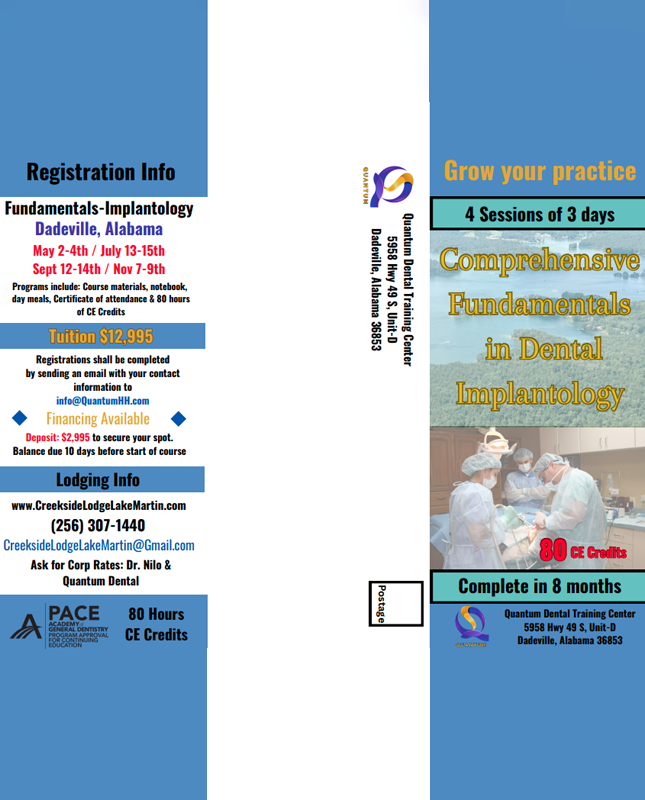 Comprehensive Fundamentals in Dental Implantology
May 2-4th July 13-15th
Sept 12-14th/Nov 7-9th
80 CE Credit hours
Course Information: Learn procedures to grow your practice - Understand the main objectives in using CBCT while incorporating sufficient knowledge for ridge augmentation, grafting both hard and soft tissues and how that applies to Provisionals and case management.
Course Objective
At the completion of this course; the participant will be able to: Implement the fundamentals in diagnosis, treatment planning, execution of case & management of the most common complications. Understand the relationship between hard and soft tissues and how that incorporates into the strategic planning based on occlusion and final desired objectives. Identify clinically significant variables in and performing bone grafting procedures and how to treatment plan those based on healing objectives.
4 Sessions of 3 days
80 CE Credits
Complete in 8 months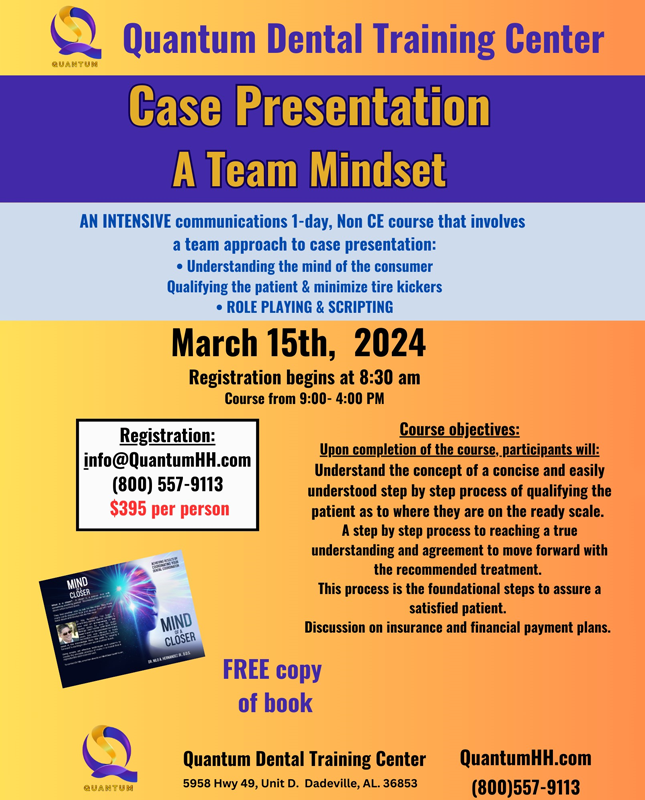 Case Presentation - A Team Mindset
March 15th, 2024
1-day, Non-CE course
Course objectives
A step by step process to reaching a true understanding and agreement to move forward with the recommended treatment. This process is the foundational steps to assure a satisfied patient. Discussion on insurance and financial payment plans.
Free Copy of Book!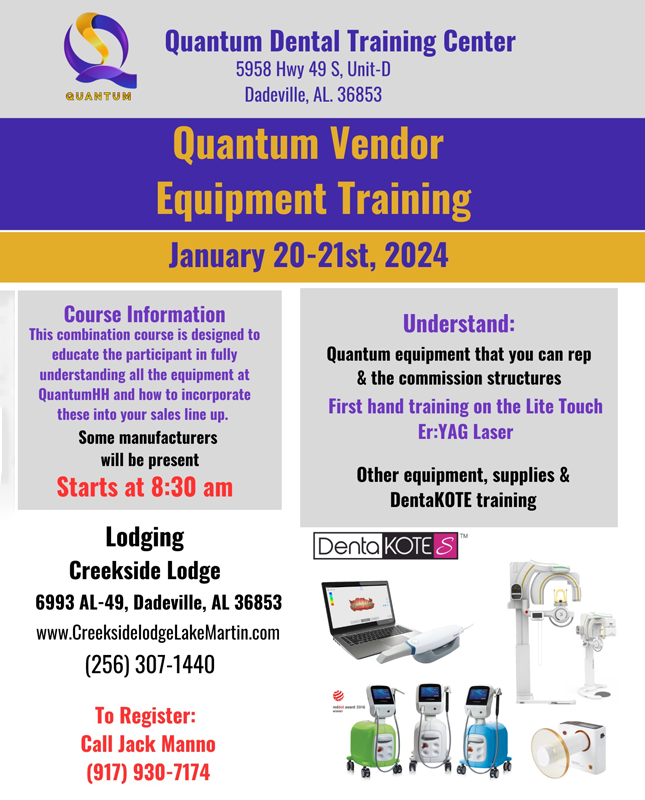 Quantum Vendor Equipment Training
January 20-21st, 2024
Course Information
This combination course is designed to educate the participant in fully understanding all the equipment at QuantumHH and how to incorporate these into your sales line up.
Understand:
Quantum equipment that you can rep & the commission structures.
First hand training on the Lite Touch Er:YAG Laser
Other equipment, supplies & DentaKOTE training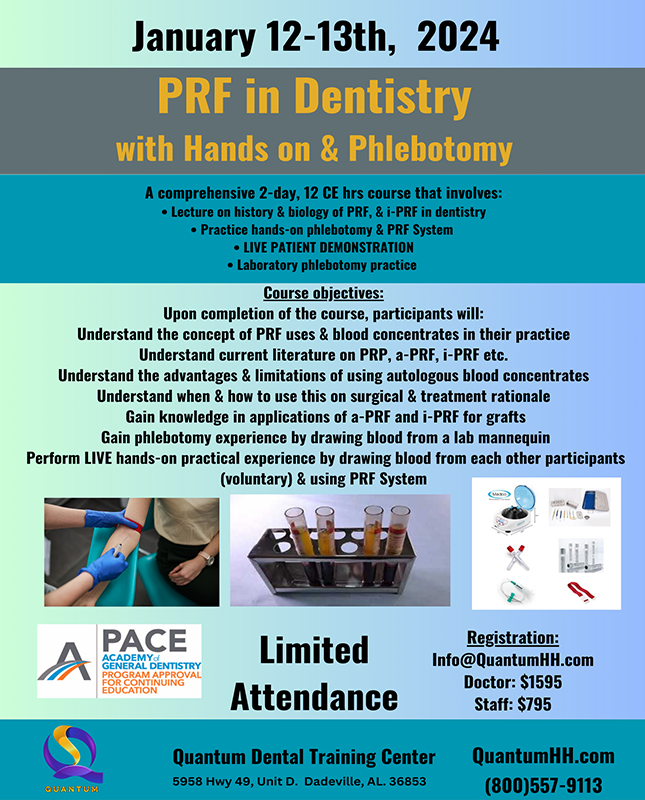 Learn PRF & Blood Drawing for Dentistry
January 12,13th, 2024
12 Hours of CE Credits
Course Information: Learn phlebotomy for uses in dental grafting and surgical procedures while improving your patient's outcomes.
$1,595.00 Per Doctor
$795.00per staff member (Limit to 2 max)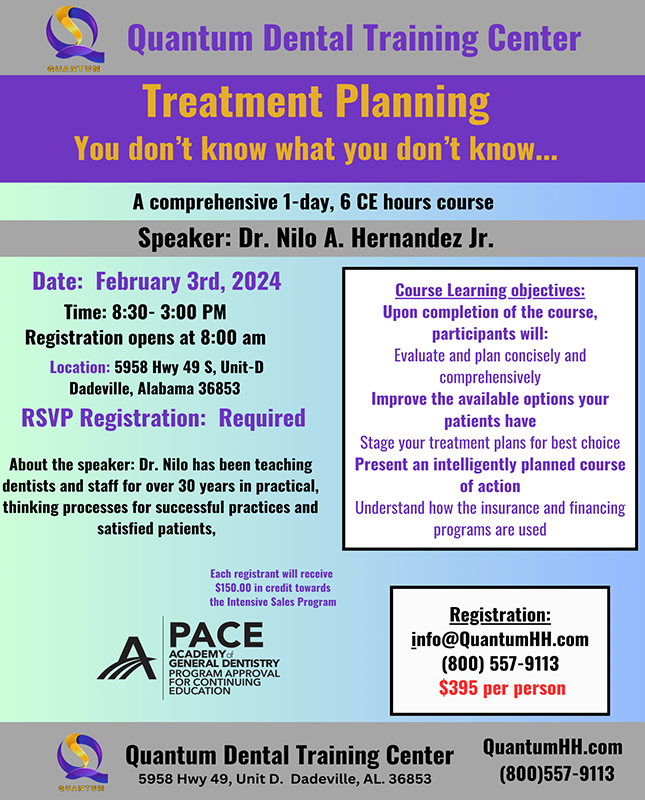 Treatment Planning- A Mindset
February 3rd, 2024
No CE Credits
One day fundamentals in patient communications to create a solid understanding to close the deal and get started. Beneficial for doctor and treatment coordinator together to role play.
$395.00 Per Person
($150 per person credit towards the Treatment Closing Intensive Course)
February 9,10th, 2024
12 Hours CE Credits
Course Information: Learn simple & predictable bone grafting procedures for improving your treatment options & outcomes. Increase your patient's outcomes and options to improve their overall health. Includes live surgical observation and discussions.